Animal Wonders offers conservation, ecology, and animal educational programs to enhance appreciation and understanding of the natural world.

Our programs and activities are fun, educational, interactive, age-appropriate, and customized for children and adults. We create and bring our programs to your school for in-class workshops, after-school programs, as well as pre-schools/daycares, scouts, 4-H, FFA, summer camps, youth groups, senior living centers, scouting events, community events, library events, animal birthday parties, corporate functions, benefits, or any special outing in Missouri or Kansas.
The beauty and genius of a work of art may be reconceived, though its first material expression be destroyed; a vanished harmony may yet again inspire the composer, but when the last individual of a race of living things breathes no more, another heaven and another earth must pass before such a one can be again. - William Beebe, 1906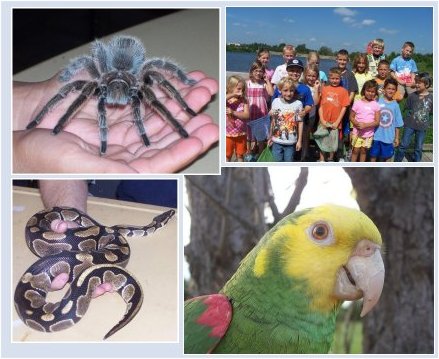 ---
Upcoming Events

Lee's Summit, MO Community Diversity of Life Workshops All Ages : 4 weekly 1 hour evening programs Tuesdays beginning Nov 5, 2013; 7 PM; Mondays beginning Dec 2, 2013; Thursdays beginning Jan 23, 2014; Thursdays beginning Feb 20, 2014 - Open to residents and non-residents. Contact the Lee's Summit Parks Department to register at 816-969-1500.

Animal Wonders School's Out Day Camp Ages 5 & up: Tuesday, Nov 5, 2013; Monday, Dec 23, 2013; Monday, Dec 30, 2013; Monday, Feb 17, 2014 9 AM to 12 PM Lee's Summit, MO. Contact the Lee's Summit Parks Department to register at 816-969-1500.

Animal Wonders Spring Break Camp Legacy Park, Ages 5 & up: March 10-14, 2014 9 AM - 12 PM. Contact the Lee's Summit Parks Department to register at 816-969-1500.

Animal Wonders Girl Scout Journeys & Badges Daisy, Brownie, Junior, Senior, & Ambassador opportunies; vist the Animal Wonders/Girl Scout Site for badge details. You schedule it, we come to you!!
Animal Themed Birthday Parties - Anywhere, anytime!! Three packages to choose from, educational and fun.
Bird Banding Burroughs Audubon Library and Nature Center at Lake Jacomo with Dana Ripper & Ethan Duke of the Missouri River Bird Observatory; Saturdays: Nov 16 & Dec 14, 2013; Saturdays Jan 11, Feb 15, & Mar 15, 2014. Banding sessions from 10 AM - 1 PM. Visit the Burroughs Audubon Society for details.
Several more public events in Missouri & Kansas for the remainder of 2013 & 2014 are in the works, will be posting them here as we get closer. Be sure to "Like" us on Facebook to see more photos, up-to date news, events, animal news, and more. The events listed above are open to the public, via registration unless stated. Hope to see you out there!!


Animal Wonders
---
Education

Each program is designed to give a better understanding of the natural world. The goal of Animal Wonders is to have our students leave a program feeling as strongly and appreciative of conservation and wildlife as our educators do. Students will learn about animal classification, animal behavior, ecosystems, terminology, endangered species, habitat improvement and so much more. Be sure to visit our Contact page for more educational links. Feel free to contact us if you still have questions after a program. One can ever stop learning!!

Live Animal Presentations

The field trip that comes to you!! We feel that it is important that the students get to see the animals in person during our programs. Animal Wonders is licensed by the USDA, fully insured, and all of our animals are safe and handled by our trained educators. The species that will be presented will be customized to the program selected. We have a variety of safe birds, mammals, reptiles, amphibians, and invertebrates that will enhance the program. We will NEVER bring wild canids, felids, or primates to any event nor will we loan animals out without having an Animal Wonders educator on hand. Having many years experience with these species in the zoo world, they have no place in area where children are present. I am parent myself and I wouldn't allow my son to attend an event where these types of animals are present, outside of an AZA approved enclosure. Our focus is education, not showing off the most exotic or extreme. Aside from domestic poultry, the animals that are used in our programs are not breeders nor will we breed and sell animals used in our programs. We strive to encourage responsible pet ownership.

It is difficult to say no to animals in need and we depend on our programs & donations to help fund the care and housing for our animals. However, the cost of taking in unwanted pets is very expensive. If you would like to help support Animal Wonders, it would be greatly appreciated.
Animal Wonders, Inc

Is a great organization providing educational programs in the Missoula, Montana area. We are happy to share the name and advice to bring our students the best educational, conservation programs available. Y0u can visit their website at http://www.animalwonders.org. If you are in their area, look them up!! They have some great animals and presentations and we are excited to be sharing information with them.

| home | about us | services | animals | contact/Links |
---
Animal Wonders, LLC © 2013
Animal Wonders
405 West 10th, Holden, MO 64040
816-807-4748
info@animalwonders.net