Pre-School & Day Care Programs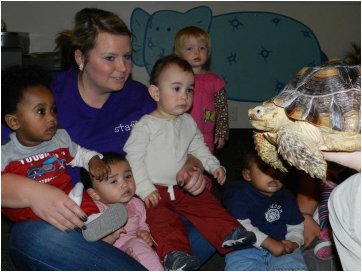 The Diversity of Life program is designed to exhibit the variety of animals on Earth starting with the simple animals (invertebrates) to the more advanced animals (vertebrates). An example of each will be shown to the students with facts of each type presented. We also attempt to have an example from each continent and ecosystem (except Antarctica). Our most popular pre-school and day care program. This can also be used as a weekly, monthly, or bi-monthly series with each group and is a very common choice for several locations in the Kansas City Metro (pricing with schools are adjusted as such for multiple programs, we are willing to work with you).


The Creepy & Crawly program will introduce the students to several species that are typically feared, but are actually very important to our ecosystems. Children will get to see a live example of each group, learn about what they eat, where they live and more. Some of the animals the children will get to see: tarantulas, scorpions, snakes, lizards, and other "creepy" critters!!

Feathered Friends will give the kids an opportunity to see several types of live birds, learn about what makes birds so unique and special to humans. On days for which the weather cooperates, we can also combine outdoor exporation by looking and listening for native bird species.
Since 2008, we have worked with many Montessori, day cares, and pre-schools all over the Kansas City area and surrounding counties in Missouri and Kansas. References can certainly be provided if required. We also provide booth activities for your school or other functions.

---
Animal Wonders, LLC © 2014
Animal Wonders
405 West 10th, Holden, MO 64040
816-807-4748
info@animalwonders.net


We depend on our programs & donations to help fund the care and housing for our animals, most of which are either rescues or surrenders. We seem to be always taking in new animals that need a home or different situation, their care adds up. If you would like to help support Animal Wonders, it would be greatly appreciated. We are always in need of caging material, lumber, crates, aquariums, straw, & newspapers.